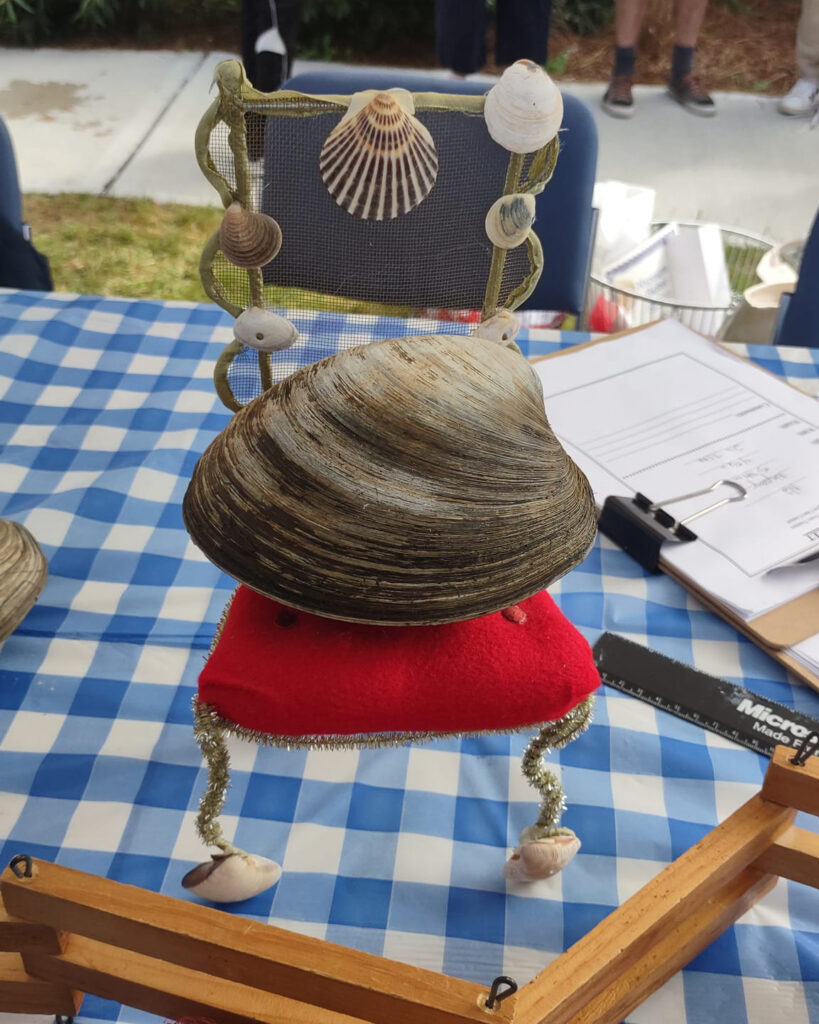 On Sunday October 3rd, the Trustees held our 31st annual Largest Clam and Chowder Contest– under a brilliant blue sky and sun, it was the perfect day for the community to come together to sample "Mrs. Roman's Bonac Clam Chowder" by Chef Paul Roman and Bostwick's New England style clam chowder. From Stuart's Fish and Market in Amagansett, Bennett Shellfish owners, Clint and his father "Shybo", who shucked clams on the half shell, we had a wonderful turn-out!
A first time big hit with everyone was the Clam Pie Showcase – featuring a variety of recipes prepared by our friends and neighbors, including but not limited to, Chef Paul Roman, Multi-Aquaculture Systems of Amagansett, Jennifer Mulligan of East Hampton who followed the new LVIS cookbook recipe, and Kimberly Esperian and Billy Bertha of Bennett Shellfish and Kimmie Cakes of Montauk.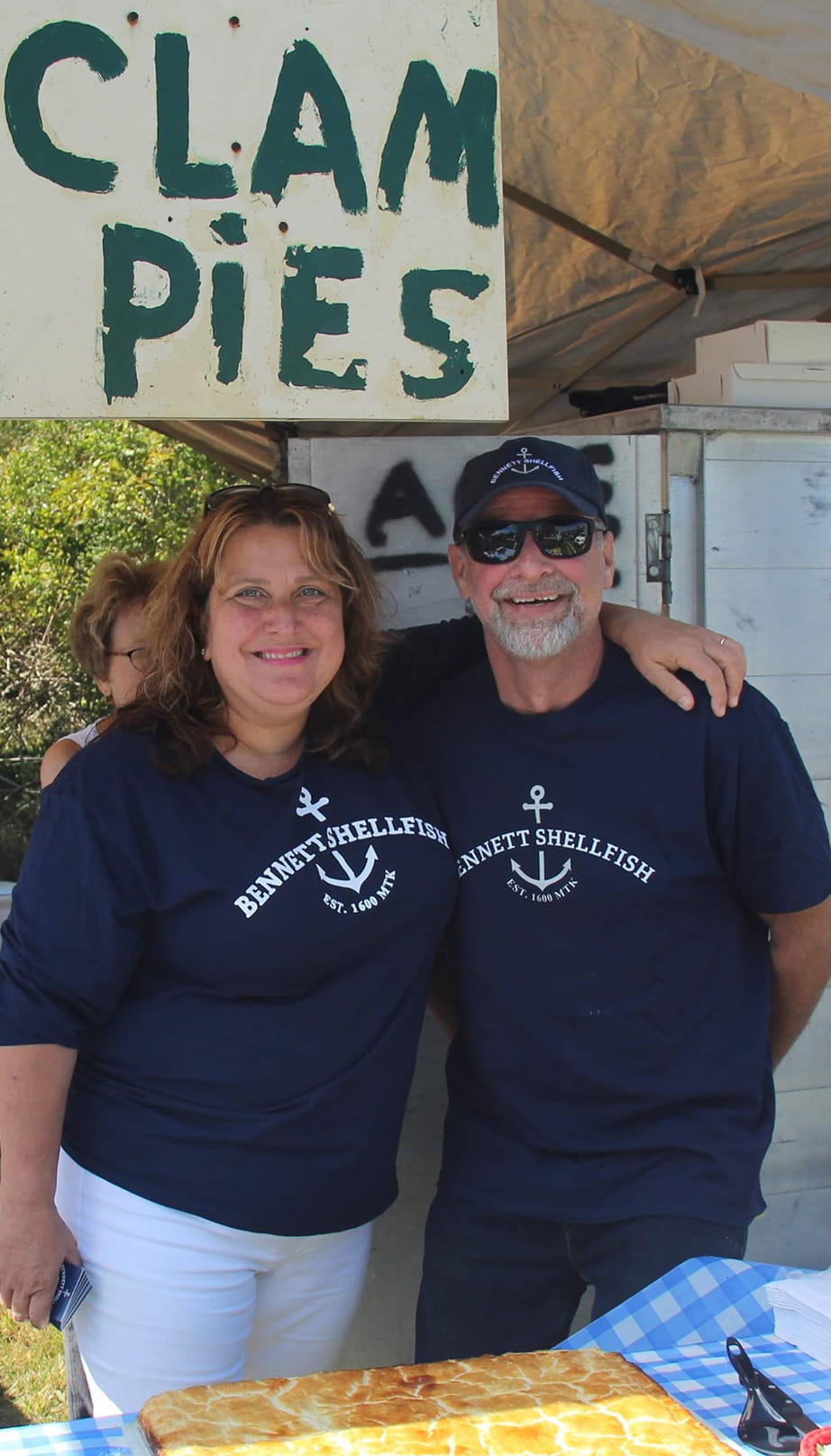 Another "first" this year was created especially for our commercial fishermen – we added "Commercial Winner"- "Shybo" Bennett of Montauk found his winning 2 lbs. 0.9 oz. clam in Napeague Harbor.
The "Overall Winner" (non-commercial) was Dennis Curles of Amagansett whose winning clam from Napeague Harbor weighed in at 2lbs. 7.1 oz.
Taking home prizes in crabbing baskets were:
Dennis Curles– Accabonac Harbor – 1lb. 6.2 oz.
Jim Sullivan – Three Mile Harbor – 1lb. 9.1 oz
Dennis Curles – Napeague Harbor – 2 lb. 7.1 oz.
The Junior Winners:
Miles Callahan – Accabonac Harbor – 1 lb. 1.3 oz
Ellis Rattray – Three Mile Harbor – 10.1 oz.
Chowder Contest Winners:
The Clam Chowder Contest had two chowders- Bonac red and New England white-
Paul Roman took the prize for his New England Clam Chowder.
Jim Lubetkin earned the prize for his Manhattan Clam Chowder.
This year's judges:
For Chowder judging we invited Annie Hall of Friends of Georgica Pond Association, Lorraine Fromm of Amagansett, Charlotte Sasso, former owner of Stuart's Seafood Market, Doug Davidson of Peterson's Seafood Market in Montauk, and Marie Valenti of Multi Aquaculture Systems in Amagansett.
The Largest Clam Contest Judges included our expert "Clam Judge" Trustee- John Aldred, Kim Shaw, Director of the East Hampton Natural Resources Department, and Mellissa Winslow also of the East Hampton Natural Resources Department.
For those who love to learn about marine life and the various native species that live and grow in our waters, John "Barley" Dunne, Director of the Department of Aquaculture & Habitat Management Shellfish Hatchery, had on display a traveling assortment of live crabs, scallops, clams, oysters, and seaweed to the delight of the youngsters and adults alike. If you're interested in helping to keep our waters clean, did you know that an oyster can filtrate up to 50 gallons of water a day? Want to be an oyster farmer? Roll up your sleeves and join the fun! Call the Shellfish Hatchery and sign up – 631-668-4601. An introduction to bi-valves is offered and begin in the New Year.
Added attractions this year included the musical talents of The Lynn Blue Band…the crowd was singing and dancing the afternoon away- face painting for the youngsters by Jenn Woodason of Liquid Imagination– and clam shell painting!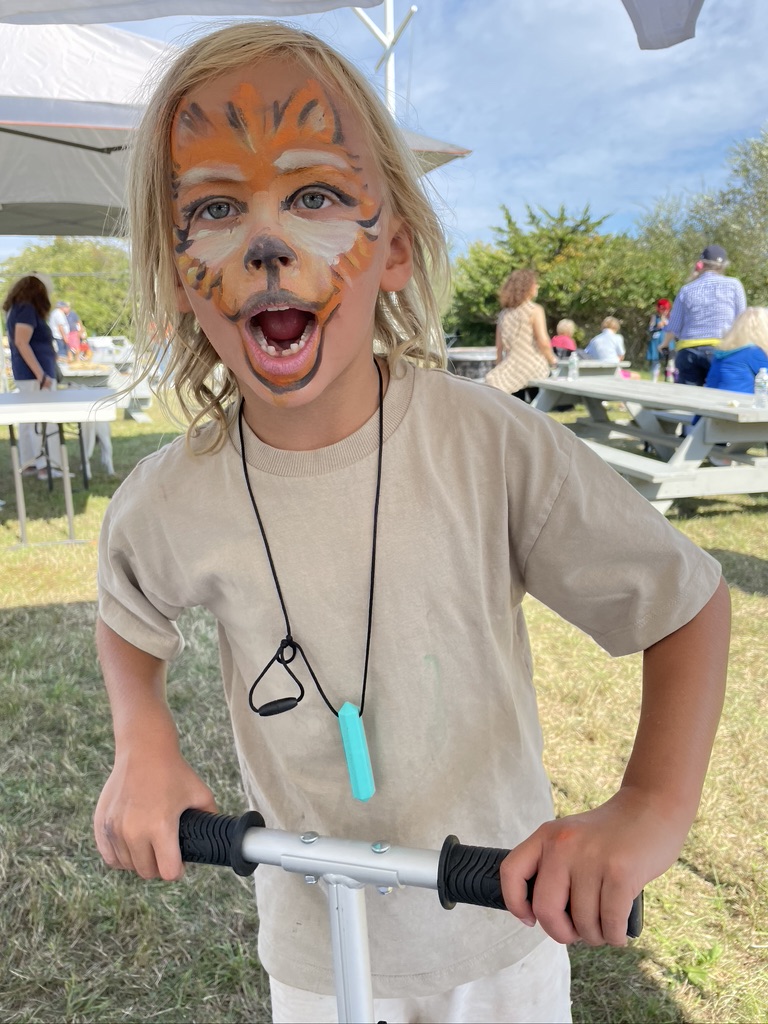 Also joining our event was The East End Classic Boat Society– an abundance of raffle tickets were sold and a drawing will take place in early December when a winner of a beautiful handcrafted wooden boat will be announced!
The Trustees are grateful to the student volunteers of East Hampton High School who came to help make our event a day to remember- organized by Dante Sasso, Sorrel Miller, Jessica Miller, Zola Crandell, and Evan Masi, received community service hours for their efforts- we wish them a successful senior year and hope they'll apply for our Captain William J. Rysam Scholarship fund – an award the Trustees provide for graduating students who are headed to college to help with their college tuition expenses.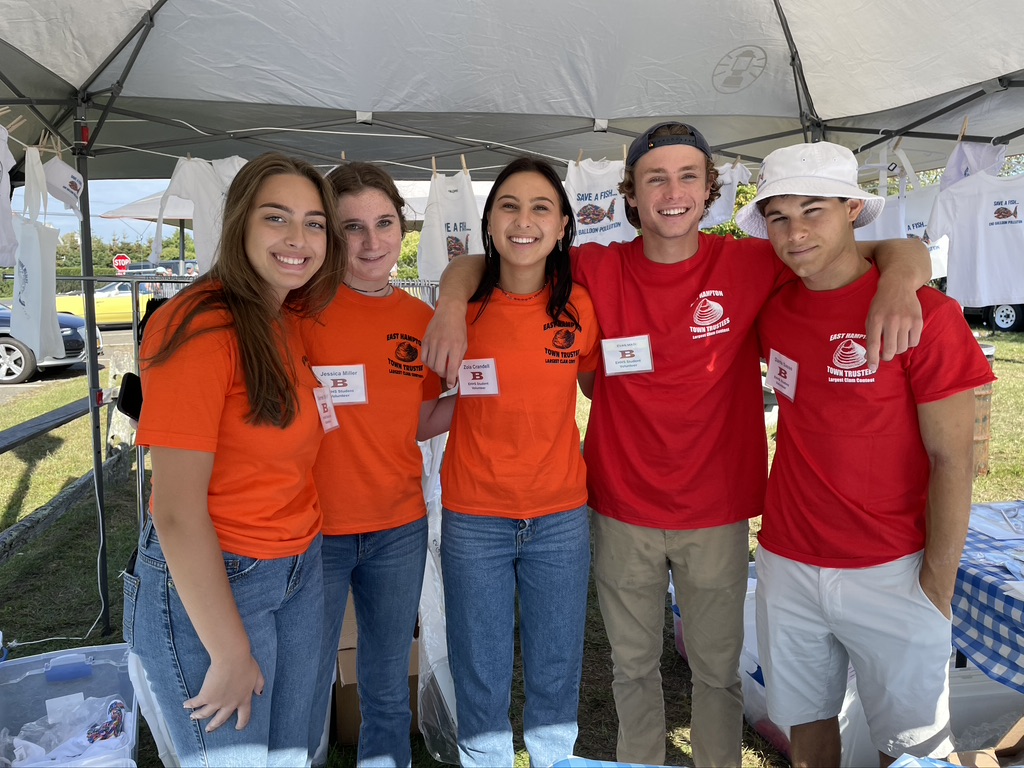 If you want a recap of the day's event, click on this link from @ltveh.org to watch our video! Thanks to Frank Vespa who filmed and edited the event!
http://75.ltveh.org/CablecastPublicSite/show/10922?channel=1
Until Fall 2022 – may the Largest Clam be yours!
Watch "The Largest Clam Contest" on LTV Channel 20 – or on YouTube LTV – Filmed & edited by Frank Vespe of LTV Studios.
(10/09, 10/16) Saturdays 6:25am & 1:30pm
(10/12, 10/19) Tuesdays 12:00pm
(10/13, 10/20) Wednesdays 9:30pm