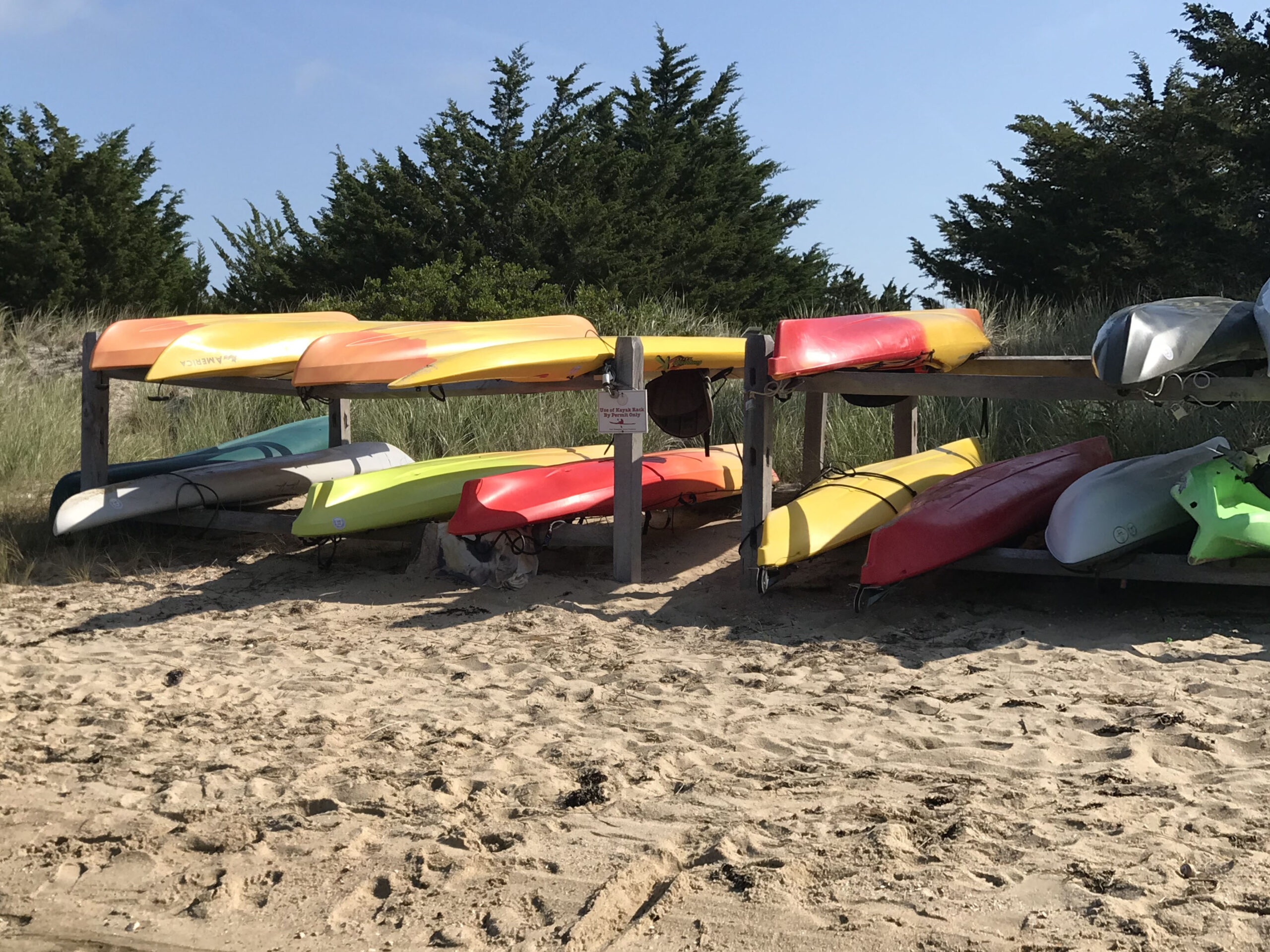 The 2023 Kayak Lottery Lists are CLOSED. The lottery will be held Wednesday, March 15, 2023. Winners will be notified by email in the days following. We ask that you allow our office staff time to complete the process and get out the notifications. Please refrain from calling the office to "check to see if you won." If you do not receive an email from us by March 21st, then please assume you did not win a spot. Be sure to check your SPAM and JUNK folders. The emails are sent in groups and may be flagged as spam with some email services. We thank you for your patience.
Kayak storage is granted by permit and is for East Hampton Town residents only (*proof of residency required).
The Trustees maintain kayak storage racks at the following locations:
Louse Point – Inner Harbor Side – (56 Spots)
Louse Point – Gardiner's Bay Side – (16 Spots)
Gerard Drive – Inner Harbor Side – (40 Spots)
Hand's Creek Road aka Settler's Landing – (56 Spots) end which opens into Three Mile Harbor.
Mile Hill Road – (32 Spots) – end which opens into Northwest Harbor/Peconic Bay.
Fresh Pond – (8 Spots) – on the North side of the inlet.
Limit ONE entry per person and Limit of TWO (2) entries per household.
NOTE: There are no kayak spots available in Northwest Creek where there are moorings and a launching ramp. Those spots are only for boat mooring owners and are available through Suffolk County Parks at Cedar Point Park.
Limit one storage spot per person, per year.
To ENTER the Lottery please email Trustees@ehamptonny.gov and include the information listed below. The subject line should read: Kayak Lottery. Then put the following information in the BODY of the email:
Name
Location
Email Address
Phone Number
Local address
Mailing address – where you will receive mail in March & April
We MUST receive all of the information above to enter you in the lottery. You may ONLY enter ONE LOTTERY.
The lottery will be held on March 15, 2023. Entries must be received no later than March 14, 2023 at 12:00 P.M. .
Lottery winners will receive a permit application packet by email following the lottery. We will NOT be sending winners any other notifications other than the application via email.
Completed applications MUST be received no later than April 5, 2023. Partial and Incomplete applications WILL NOT be accepted. Make sure to include payment with your application.
Completed applications may be returned via email to trustees@ehamptonny.gov OR hard copy dropped off at the Trustee Office at 267 Bluff Rd in Amagansett OR mailed to P.O. Box 7073 Amagansett, NY 11937. We will be providing a means to pay via credit card. If you wish to send a hard copy, we suggest mailing the check and application together to our address below. We cannot pull information from previous year's applications. Please be prepared to provide all required documentation.
---
The following documentation is required as part of the application. NOTE: Applications are ONLY sent to those who win a spot through the lottery system. They will be sent via email. INCOMPLETE APPLICATIONS WILL NOT BE ACCEPTED.
Completed application form.
Application fee of $250 per kayak. Payable by check made out to East Hampton Town Trustees, cash or, new this year, a credit card payment through the Square app. Each winner will be sent a link to pay by credit card, if requested, upon receipt of their completed application. There is also a secure metal Dropbox in front of the Trustees' office at 267 Bluff Rd in Amagansett for your convenience. Checks and cash should be submitted together with your complete application.
A Copy of current driver's license.
Proof of residency – this may include a property tax receipt from the current tax year for property within the bounds of the Town of East Hampton, driver's license with East Hampton street address, a current 12-month (year-round) lease of property within the Town of East Hampton or a voter registration card showing you are a registered voter in the Town of East Hampton. Should you require a copy of your property tax receipt, you may find a copy on the Tax Receiver's page on the East Hampton Town website. *Note: you will be asked to log in and/or it may require you create an account.
A Color photograph of Kayak – Side/length view required.
Permitted Kayaks may be placed on the Kayak Racks beginning April 15 and must be removed by November 15. Kayaks without permits, or those remaining on the racks past November 15, may be subject to impound. A fee in the amount of $250.00 per boat will be charged for release of an impounded Kayak.