The NYSDEC Bureau of Marine Resources will designate all of Three Mile Harbor, in the Town of East Hampton, as temporarily uncertified for the harvest of shellfish before, during and after the 2022 Clamshell Foundation's and EHP Resort and Marina Fireworks Event. The closure will be effective at sunrise on Saturday, July 16, 2022 and continue through Wednesday, July 20, 2022, both dates inclusive.
The affected area is:
Three Mile Harbor, Town of East Hampton.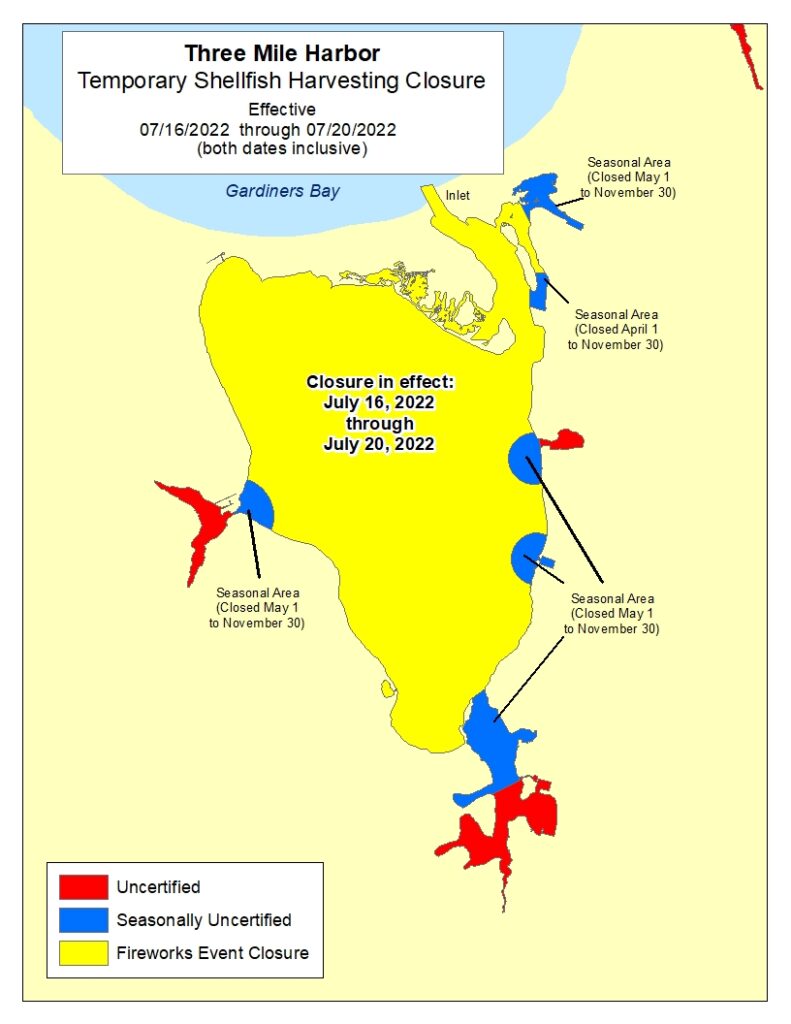 Since 1993, the Department of Environmental Conservation (DEC) has designated this area as temporarily uncertified for the harvest of shellfish because of the fireworks event. Three Mile Harbor is closed to shellfishing on the day of the fireworks and the four days afterwards to protect public health from potentially contaminated shellfish associated with increased boating activity in very close proximity to shellfishing areas. Potential discharges from marine sanitation devices (toilets) may contaminate nearby shellfish beds with pathogenic bacteria or viruses, rendering the shellfish unsafe for human consumption. Three Mile Harbor is part of a No-Discharge Zone and discharges of treated or untreated boat sewage are prohibited. The East Hampton Trustees operate a pump-out boat which can be reached by using marine radio, VHF channel 73, or calling 631-644-7162. The Town Harbormaster's office at Gann Road has a self-serve facility. Both are available at no fee to the boater.
Boaters are reminded to always use pump-out facilities to help protect New York's waters.
A map image (.jpg) is also viewable on the DEC's "Temporary Shellfish Closures" webpage at: http://www.dec.ny.gov/outdoor/7765.html