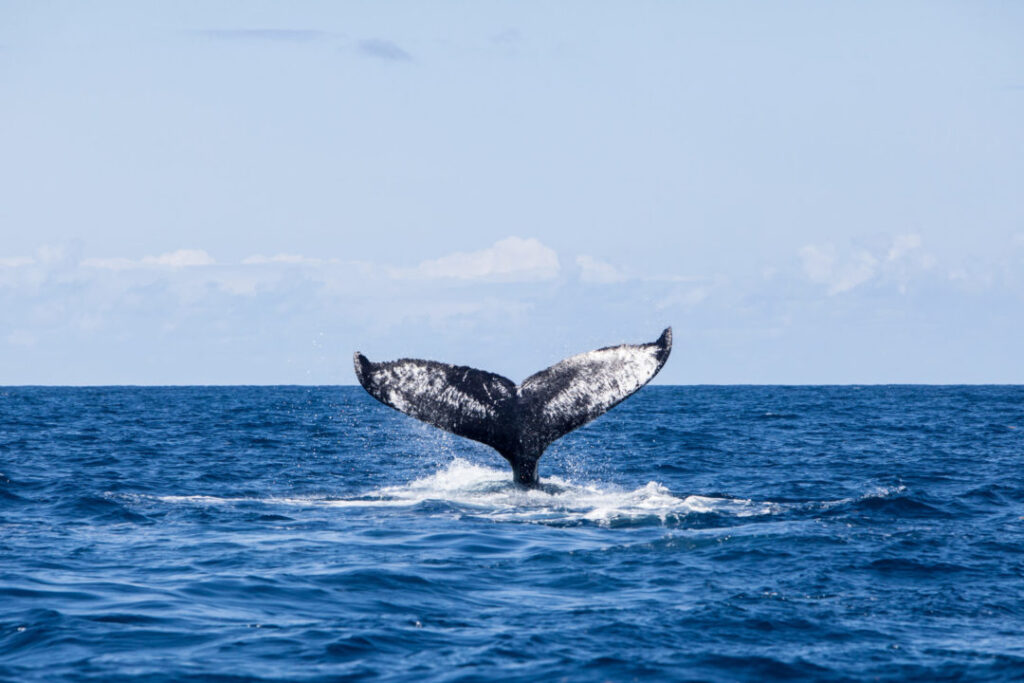 In the past few years, the Atlantic Ocean coastline has seen several whales and other marine animals wash ashore, deceased. There are various causes that may have contributed to their demise. One of the main causes of death is from vessel strikes. The ocean is filled with large ships crossing the Atlantic Ocean daily. The other prominent cause is the result of fishing gear entanglement. Malnourishment, disease, and old age are contributing factors to whale and other marine species deaths.
Protect Whales – Patch – May 12, 2023
Michael DeSantis -Staff Writer
Recently, twenty environmental organizations have called for New York and Connecticut federal policymakers to increase funding and protection measures for whales off the East coast. The groups sent New York and Connecticut federal policymakers an "urgent request" to protect East coast whales.
The organizations are requesting $20 million for the Marine Mammal Unusual Mortality Event Contingency Fund in this year's budget and measures to ensure whale monitoring data is up-to-date and publicly available, which the groups say could help prevent ship strikes in the future.
Groups are also calling for funding for marine mammal response and necropsy efforts.
"These species are under threat from several sources, including ship strikes, fishing gear, plastic pollution, and climate change," the Citizens Campaign for the Environment wrote.
Read the full article here:
Marine Vessel Traffic – North Atlantic Ocean Ships
The map below features the eastern seaboard- NY's Long Island and New England indicating the traffic of vessels in the Atlantic Ocean. marinevesseltraffic.com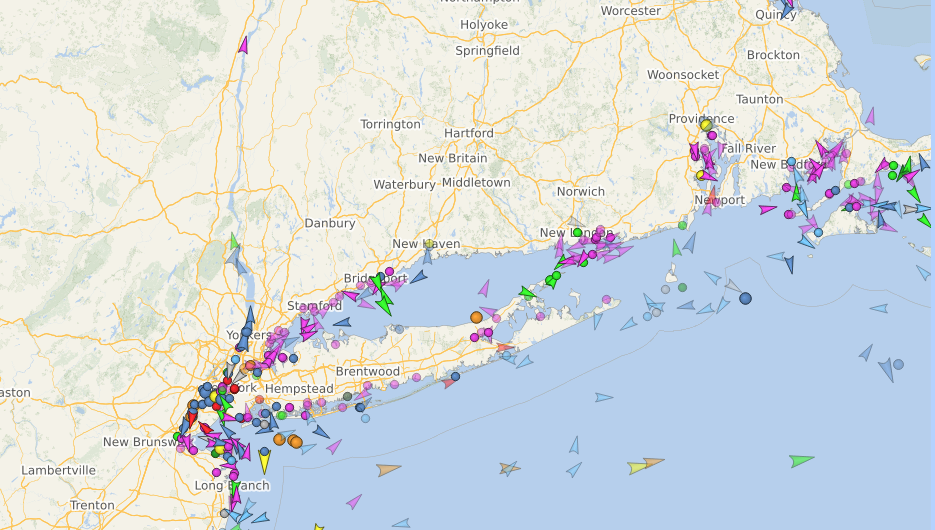 From sciencedirect.com, a report regarding shipping in the north-east Atlantic: Identifying spatial and temporal patterns of change. Highlights to consider include:
Shipping densities are increasing in the north-east Atlantic.
Densities increased by 34% over five years.
Densities increased in 73% of Marine Protected Areas.
This has implications for noise exposure, and collision risk to marine wildlife.
Fishing Gear Entanglements
The International Whaling Commission has determined that entanglement is a growing problem in terms of conservation, welfare, economics, and human safety.
The full extent is hard to assess as most entanglements are never observed, but research suggests that over 300,000 whales and dolphins die annually due to entanglement in fishing gear, with additional unknown numbers also entangled in marine debris. This can have a devastating, long-term conservation impact on those populations that are already threatened, in some cases critically.
Entanglement is also a serious welfare issue. It can lead to drowning as trapped animals cannot reach the surface to breathe, to laceration and infection as heavy ropes bite through skin, and to starvation as animals towing heavy fishing gear cannot feed effectively.
There can also be serious economic consequences for the companies and communities who lose expensive fishing gear when it entangles a whale, and is dragged away and lost. This can be especially devastating for 95% of the world's fishers, who are artisanal or small-scale fishers, supplying their families and villages.
Read the full article here:
U.S. Navy Marine Species Monitoring
The U.S. Navy Marine Species Monitoring website offers additional information about the Northern Right Whale and their calves – with reports of vessel strikes as a substantial cause for the death of many whales.
This is Right Whale "Smoke" and her female calf seen approximately 30 miles off the coast of Virginia on Sunday 05 March 2023. The vessel team deployed the drone to collect identification and measurement data, assess overall health, check for entanglement in fishing gear, and document the sighting. Smoke's latest calf has been confirmed as female and reported to be very playful, spending a lot of time at or near the surface.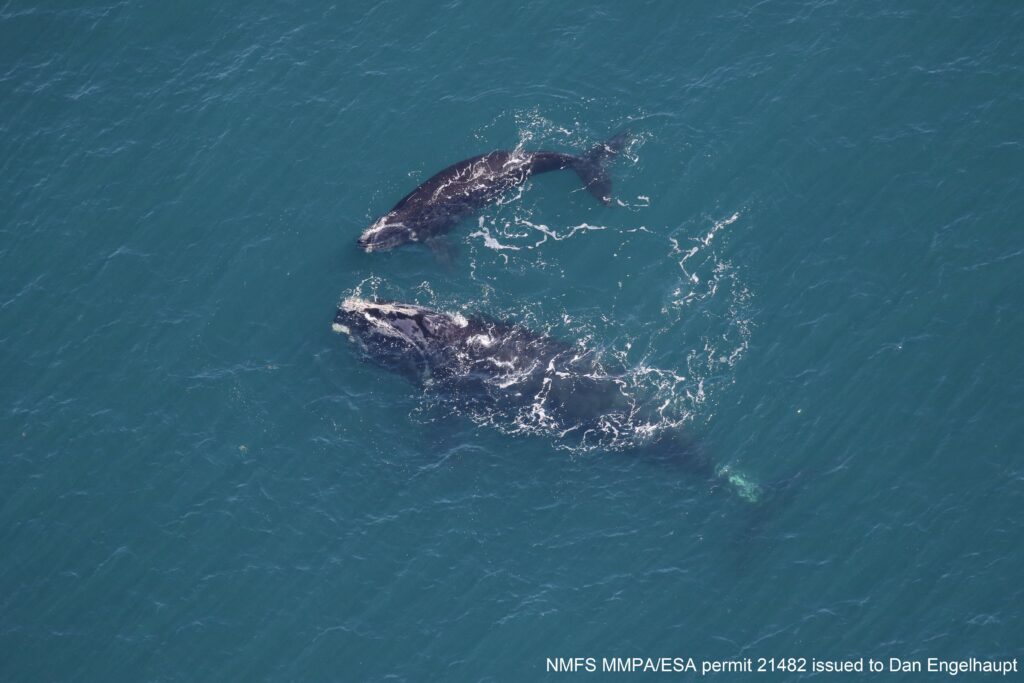 Read the full report here:
Concerns that offshore wind farm development may be the cause or contribute to the death of whales washing ashore, the article presented by FactCheck.org, addresses those concerns in a comprehensive report below.
No Evidence Offshore Wind Development Killing Whales
Posted on March 31, 2023
Vessel strikes and entanglement are the leading causes of mortality and serious injuries in the right whale unusual mortality event.
Several factors, experts and officials have said, could be increasing the risk of these hazards. For one, climate change is warming oceans and changing the distribution of prey that marine species depend on. As a result, whales are altering their migration routes and moving out of protected areas and closer to the shores, where they are more vulnerable to ship strikes and entanglement with fishing gear.
Q: Is the development of offshore wind energy farms in the U.S. killing whales?
A: Whales have been dying at an unusual rate along the Atlantic Coast since 2016, often from ship strikes or entanglements with fishing gear. Federal agencies and experts say there is no link to offshore wind activities, although they continue to study the potential risks.
Read the full article here: