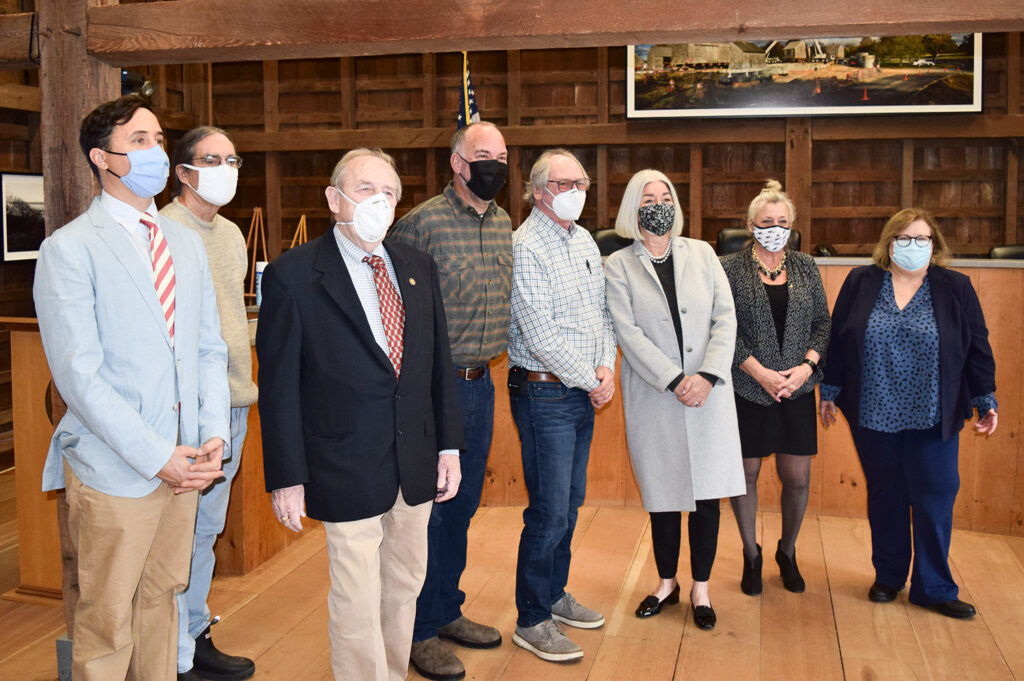 Carole Brennan, second from right, the East Hampton Town clerk, conducted the swearing-in of members of the town trustees and Cate Rogers, right, the new member of the town board, at Town Hall on Friday. Photo: Christopher Walsh
January 2, 2022 – Town Hall
The East Hampton Star : January 6, 2022
Continuity was on the agenda when the East Hampton Town Trustees selected officers and staff during their organizational meeting on Monday night.
Eight of the nine incumbent trustees were re-elected in November, and six of them, plus the newly elected trustee, were in attendance at Monday's meeting, held via Zoom video conference.
Jim Grimes, who received the most votes of any contested race in winning re-election in November, nominated Francis Bock, the trustees' clerk, or presiding officer, to continue in that position. The nomination was seconded, and the seven trustees present at the virtual meeting voted in favor. "Thank you, everybody, for your vote of confidence," Mr. Bock told his colleagues. He will be paid $24,138 this year.
Mr. Bock then nominated Mr. Grimes to continue in his role as one of the two deputy clerks. He, too, was re-elected, and then Mr. Bock did the same for Bill Taylor, the other deputy clerk, who was also re-elected to that post. Each will be paid $20,093 per year. The other six trustees will be paid $8,553 per year.
Arlene Tesar will continue as the trustees' secretary. In addition to her salary as a town employee, the trustees voted to provide Ms. Tesar a stipend of $170 per week. Alyson Follenius will continue as the trustees' part-time secretary, at $25 per hour for a maximum of 30 hours per week, plus a weekly stipend of $125.
Ms. Follenius was also hired on a contract basis to work on organizing, coordinating, and overseeing an analysis of structures, such as docks, in trustee waters during the present moratorium on building structures in trustee waters. The trustees voted unanimously to enact a one-year moratorium in November, following a split vote to approve construction of an 80-foot floating dock on Three Mile Harbor, the first such approval in more than three decades.
The Law Office of Christopher Carillo, the trustees' attorney, will continue in that role, with the firm to be paid $44,591.78 in 2022.
The trustees will continue to meet on the second and fourth Monday of each month at 6:30 p.m. If either of those falls on a legal government holiday, the meeting will be held on the Friday following the Monday holiday.
The trustees also voted to reauthorize the clerk to arrange for the biannual opening of Georgica Pond, in accordance with their longstanding historical practice, by engaging contractors to open the pond. The opening is typically done in the spring and fall.
The trustees' first regular meeting of 2022 will happen on Monday via Zoom. At that meeting, trustees will be assigned to committees including aquaculture, beaches, harbor management, Georgica Pond and other ponds, roads, Accabonac Harbor and Hog Creek, Napeague and Lazy Point, Northwest Creek, and Three Mile Harbor.
For just the second time in six years, Rick Drew was not in attendance, having been defeated in his bid for re-election on the Independence Party ballot, the East Hampton Democratic Committee having declined to endorse his candidacy for re-election last year. In his place was David Cataletto, who was elected in November.
Susan McGraw- Keber welcomed Mr. Cataletto, and said, "I'm looking forward to working with everybody here. I think we have a terrific board."
"I'm really excited to be part of the team here," Mr. Cataletto said.