Acoustic Telemetry Sensor Positions off Wainscott
An array of acoustic sensors has been placed in the ocean off Wainscott as part of the South Fork Wind Fisheries Study being conducted by Stony Brook University. The five year study will evaluate possible nearshore effects on migratory and other fish behavior resulting from South Fork Wind Farm's export cable bringing power from their offshore generators to a landing at Beach Lane.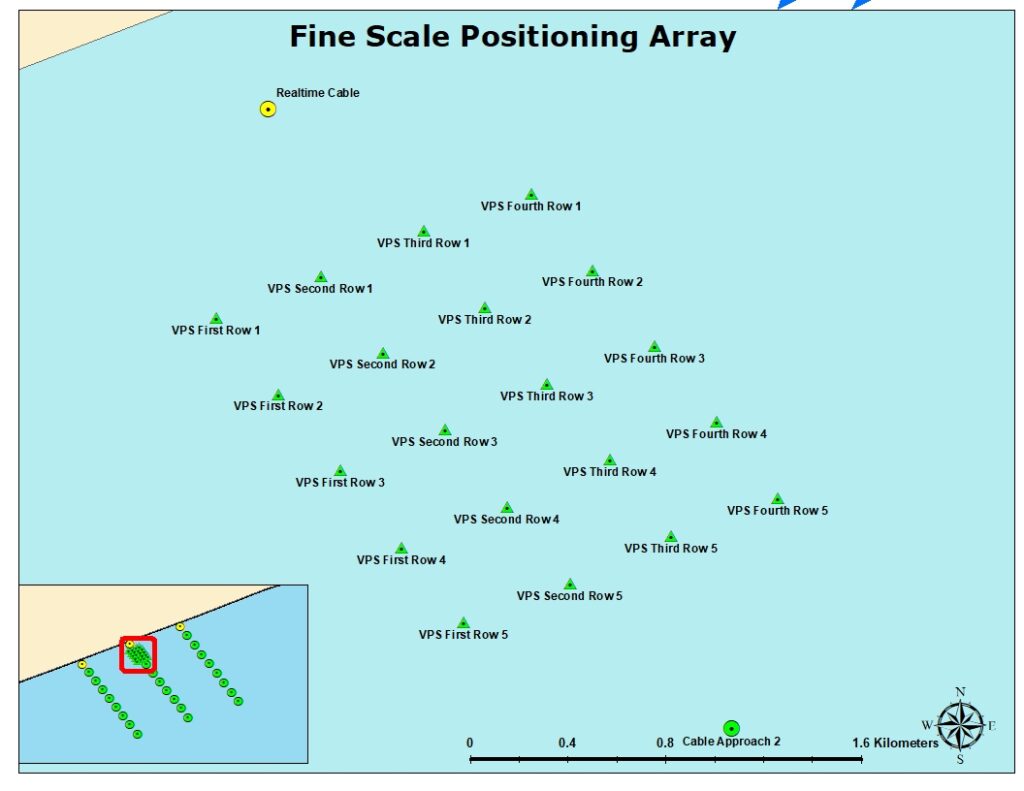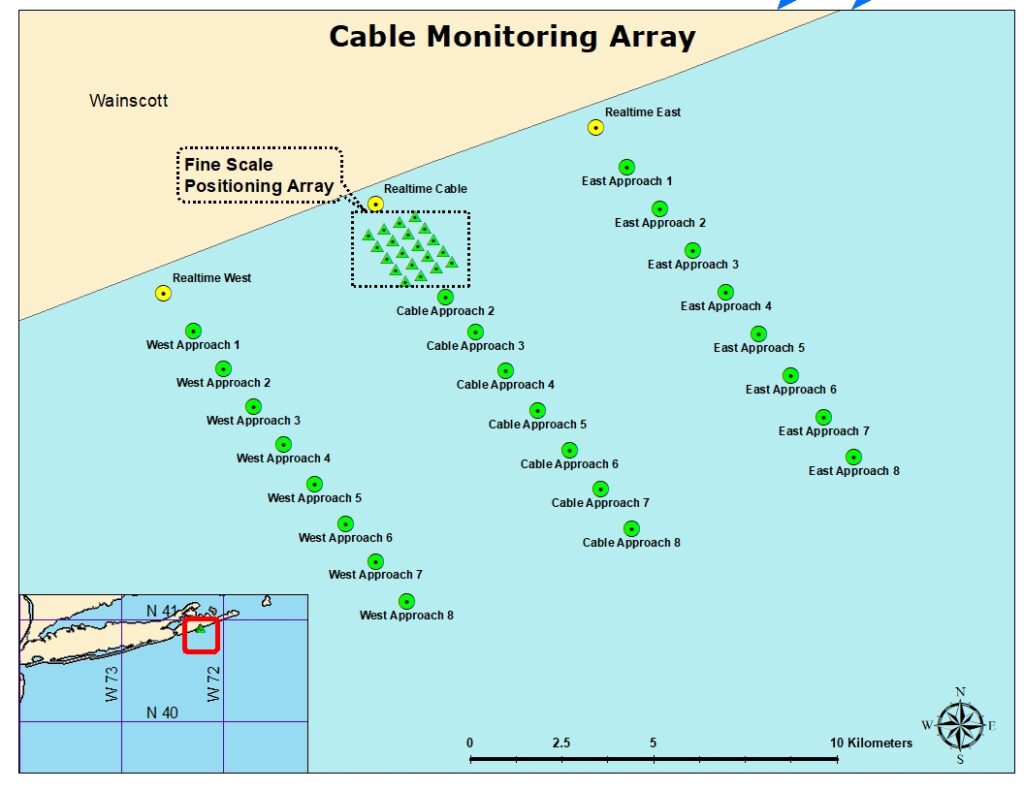 The array covers the cable route in New York State waters, out to 7 miles.
The sub surface sensors are anchored to the bottom and therefore pose a possible obstruction to anything being pulled by a boat, including nets and trawl or other fishing lines. The following is a graphic depiction of the entire array of sensors and a listing of each sensor's position, by latitude and longitude.
---
| Receiver | Type | Latitude | Longitude |
| --- | --- | --- | --- |
| VPS First Row 1 | VPS | 40.91605 | -72.234066666667 |
| VPS First Row 2 | VPS | 40.913233333333 | -72.231783333333 |
| VPS First Row 3 | VPS | 40.910416666667 | -72.2295 |
| VPS First Row 4 | VPS | 40.907583333333 | -72.227233333333 |
| VPS First Row 5 | VPS | 40.904816666667 | -72.224933333333 |
| VPS Second Row 1 | VPS | 40.917583333333 | -72.230216666667 |
| VPS Second Row 2 | VPS | 40.914766666667 | -72.227916666667 |
| VPS Second Row 3 | VPS | 40.911933333333 | -72.225616666667 |
| VPS Second Row 4 | VPS | 40.909066666667 | -72.223333333333 |
| VPS Second Row 5 | VPS | 40.906266666667 | -72.221033333333 |
| VPS Third Row 1 | VPS | 40.91925 | -72.226416666667 |
| VPS Third Row 2 | VPS | 40.916433333333 | -72.22415 |
| VPS Third Row 3 | VPS | 40.913616666667 | -72.221866666667 |
| VPS Third Row 4 | VPS | 40.910833333333 | -72.219566666667 |
| VPS Third Row 5 | VPS | 40.908016666667 | -72.2173 |
| VPS Fourth Row 1 | VPS | 40.9206 | -72.222466666667 |
| VPS Fourth Row 2 | VPS | 40.9178 | -72.2202 |
| VPS Fourth Row 3 | VPS | 40.915 | -72.217916666667 |
| VPS Fourth Row 4 | VPS | 40.9122 | -72.215633333333 |
| VPS Fourth Row 5 | VPS | 40.9094 | -72.2134 |
| West Approach 1 | Approach | 40.892533333333 | -72.27675 |
| West Approach 2 | Approach | 40.883216666667 | -72.269433333333 |
| West Approach 3 | Approach | 40.87395 | -72.262116666667 |
| West Approach 4 | Approach | 40.864683333333 | -72.2548 |
| West Approach 5 | Approach | 40.854983333333 | -72.247083333333 |
| West Approach 6 | Approach | 40.845266666667 | -72.239433333333 |
| West Approach 7 | Approach | 40.83605 | -72.232033333333 |
| West Approach 8 | Approach | 40.82625 | -72.224433333333 |
| Cable Approach 2 | Approach | 40.90095 | -72.21505 |
| Cable Approach 3 | Approach | 40.89235 | -72.207616666667 |
| Cable Approach 4 | Approach | 40.8828 | -72.200083333333 |
| Cable Approach 5 | Approach | 40.8731 | -72.1924 |
| Cable Approach 6 | Approach | 40.8634 | -72.184583333333 |
| Cable Approach 7 | Approach | 40.853683333333 | -72.176783333333 |
| Cable Approach 8 | Approach | 40.84405 | -72.1692 |
| East Approach 1 | Approach | 40.9327 | -72.170416666667 |
| East Approach 2 | Approach | 40.922483333333 | -72.1623 |
| East Approach 3 | Approach | 40.912266666667 | -72.154266666667 |
| East Approach 4 | Approach | 40.902066666667 | -72.146116666667 |
| East Approach 5 | Approach | 40.891833333333 | -72.138083333333 |
| East Approach 6 | Approach | 40.8816 | -72.1301 |
| East Approach 7 | Approach | 40.871383333333 | -72.122033333333 |
| East Approach 8 | Approach | 40.861533333333 | -72.114616666667 |
| Realtime East | Realtime | 40.942516666667 | -72.178033333333 |
| Realtime Cable | Realtime | 40.92375 | -72.232133333333 |
| Realtime West | Realtime | 40.901766666667 | -72.284133333333 |