31st Annual Largest Clam Contest
Digging: September 25th through October 2nd
Judging: Sunday, October 3rd at the Trustees' Office on the corner of Bluff Road and Atlantic Avenue in Amagansett beginning at 12:00 noon
Live Music by The Lynn Blue Band
Face Painting Artistry by Jenn Woodason of Liquid Imagination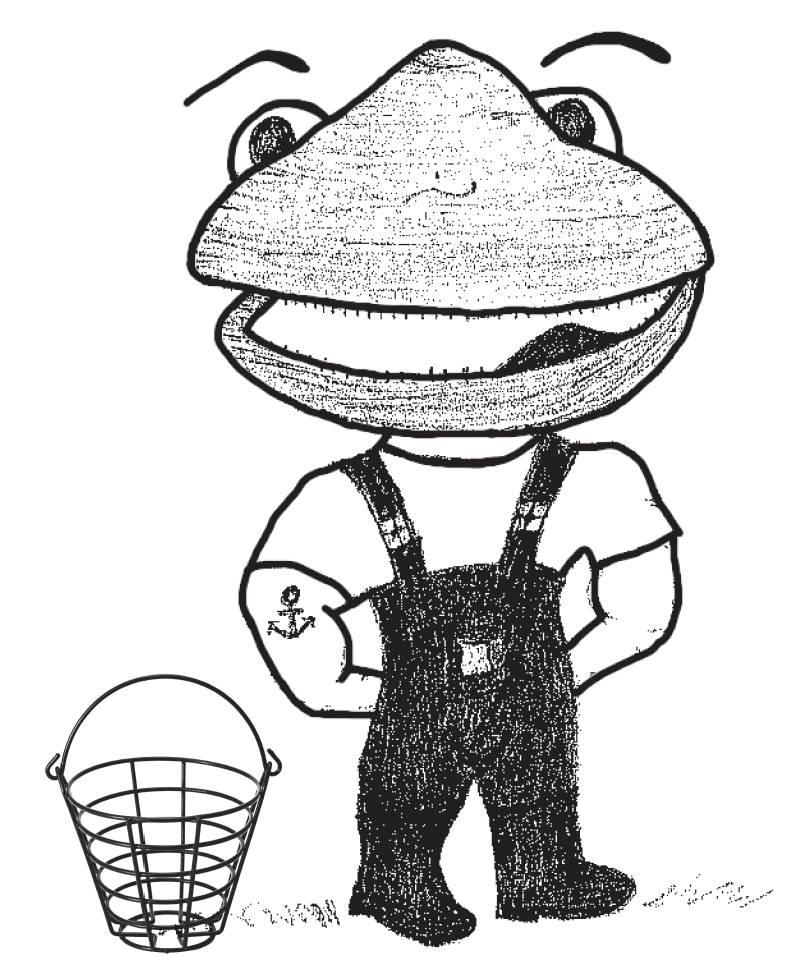 Special Events: Clam Chowder Contest & Clam Pie Showcase
NEW! Special Category for Commercial Fishermen Only – PRIZE FOR LARGEST CLAM!
Public invited for Free Clam Chowder & Clam Bar
Rules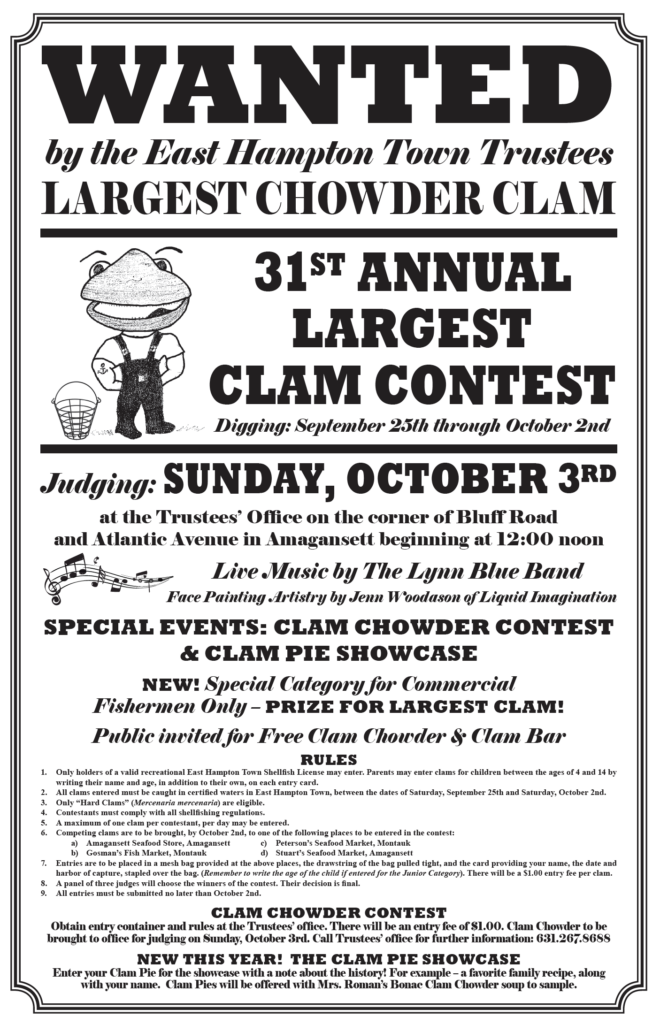 Only holders of a valid recreational East Hampton Town Shellfish License may enter. Parents may enter clams for children between the ages of 4 and 14 by writing their name and age, in addition to their own, on each entry card.
All clams entered must be caught in certified waters in East Hampton Town, between the dates of Saturday, September 25th and Saturday, October 2nd.
Only "Hard Clams" (Mercenaria mercenaria) are eligible.
Contestants must comply with all shell fishing regulations.
A maximum of one clam per contestant, per day may be entered.
Competing clams are to be brought, by October 2nd, to one of the following places to be entered in the contest:

Amagansett Seafood Store, Amagansett
Gosman's Fish Market, Montauk
Peterson's Seafood Market, Montauk
Stuart's Seafood Market, Amagansett

Entries are to be placed in a mesh bag provided at the above places, the drawstring of the bag pulled tight, and the card providing your name, the date and harbor of capture, stapled over the bag. (Remember to write the age of the child if entered for the Junior Category). There will be a $1.00 entry fee per clam.
A panel of three judges will choose the winners of the contest. Their decision is final.
All entries must be submitted no later than October 2nd.
Clam Chowder Contest
Obtain entry container and rules at the Trustees' office. There will be an entry fee of $1.00. Clam Chowder to be brought to office for judging on Sunday, October 3rd. Call Trustees' office for further information: 631-267-8688
New This Year! The Clam Pie Showcase
Enter your Clam Pie for the showcase with a note about the history! For example–a favorite family recipe, along with your name. Clam Pies will be offered with Mrs. Roman's Bonac Clam Chowder soup to sample.